Table of contents
History of Ascension
To view all the specific changes, join the discord!
Last update: September 21th 2020
June, July, August, September 2020
New Mode
- Add Ascade gamemode
Changes
- New website redesign
- Bug fixes
May 2020
Changes
- Update the look of the piece editor
- Some bug fixes
April 2020
Changes
- Add replay timeline
- Add user badges
- Halved replay size on server
- A bunch of bug fixes and improvements
March 2020
Changes
- Asc is now 1 year old!
- Sound effect overhaul
- Graphical updates! (new play field, indicators, and other improvements)
- Custom backgrounds!
- Updated replayer (more accurate, more features, and less laggy!)
- Updated chat with quality of life changes
- Code clean up and bug fixes!
Febuary 2020
Changes
- Show "play" box with list of plays for that session with personal leaderboards
January 2020
First ASC tourmament
- First ASC vs tournamnet happened on Jan 10th
- Congratulations to Tetrian22 for winning!
- Thank you to ModestTomato for organizing the tournament and to everyone for watching and participating
- Video at https://www.youtube.com/watch?v=yWE3ce168kw
Changes
- Added global chat
- Automatically assign usernames (if logged in)
- Guests can only spectate multiplayer games
- Update multiplayer UI to look much nicer
- Some improvements to SEO and mobile layouts
December 2019
Changes
- Show recent plays and maps on profile
- Adjust game blending mode to make it less blurry
- Bug fixes and quality of life changes
- Updated TOS
- Added TOS to nav bar
November 2019
Changes
- ACCOUNTS!!
- Users can now register an account and log in
- Users have a profile with a profile picture, and userpage
- A User's replays will be linked to their account
- Maps can now have the option to hide replays from people who have not yet beat them
- Server tweaks to improve performance
New Pages
- Register/Login
- Terms of Service/Code of Conduct (read it)
October 2019
Changes
- Added "out of focus" warning
- Added swipe touch controls
- Multiplayer Desync fixes (again)
- Resizable chat (temporary work around)
- Win counter for 1v1
- More bug fixes as usual :P
September 2019
Changes
- RECORDS!
- Records for Maps, Sprint, PC, Dig, Combo and Mutation
- Map listing
- Map submisson!
- Map replayer
- Config list
- Better onscreen buttons
- Better NavBar for mobile
- Bug fixes
- More skins!
New Pages
- Map List
- Record list for modes
- Replayer
- Map records
New Modes
- Pack Mode: Squeeze as many pieces into one field as possible!
- Time Attack: Send as much attack within 2 minutes as possible!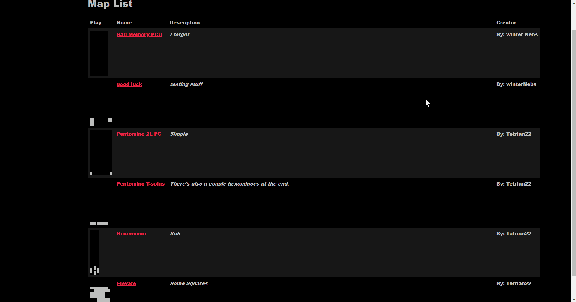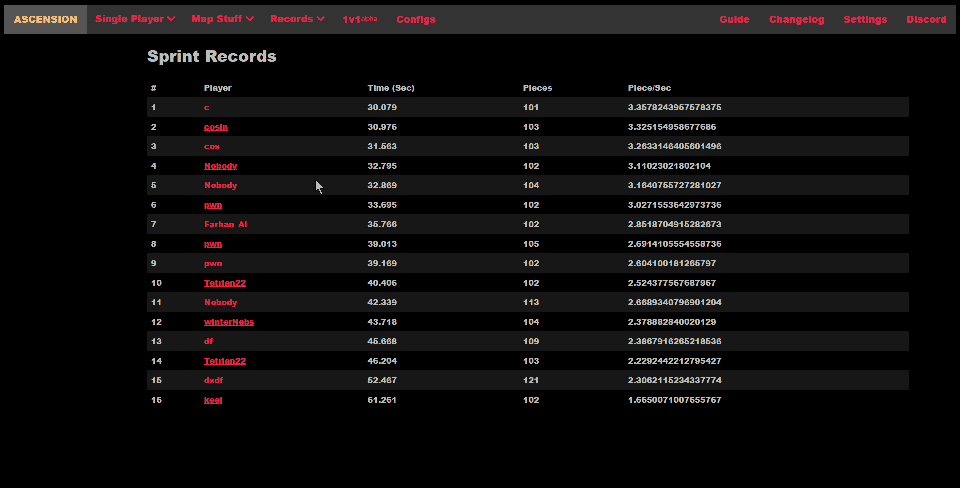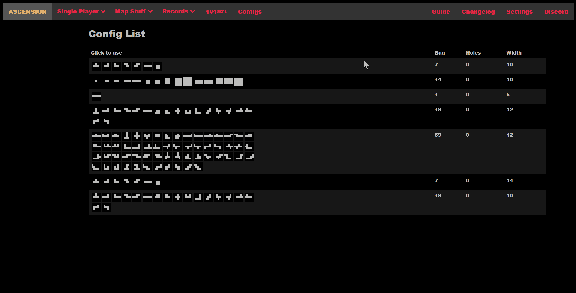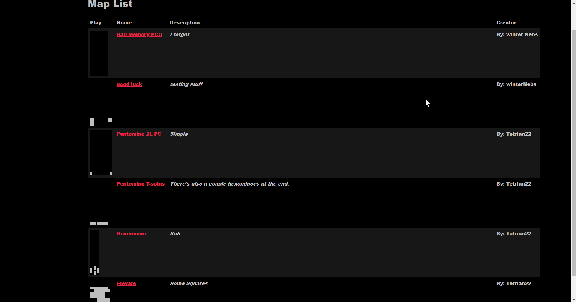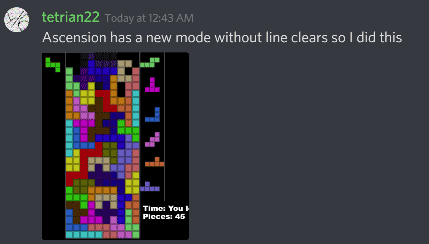 August 2019
Changes
- Added the option to have bag randomizer for maps
- Added drop menu for single player modes
- Fixed some bugs
- Added descriptions to all the modes
- Added skins
New Modes
- Combo Attack Mode: send as much attack consecutively
- Mutation Mode: Survive as long as possible with constantly changing pieces
Screenshots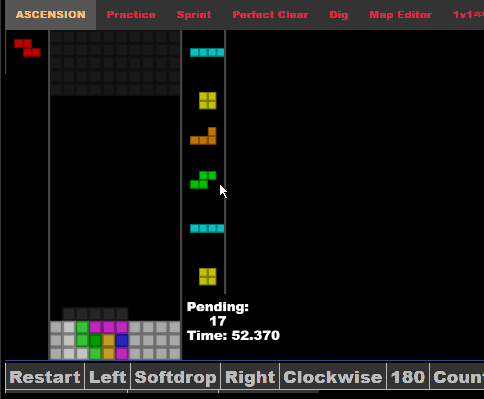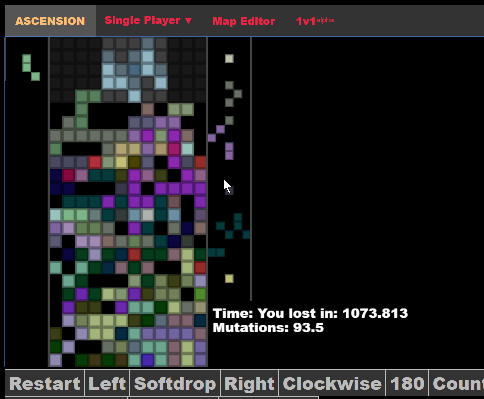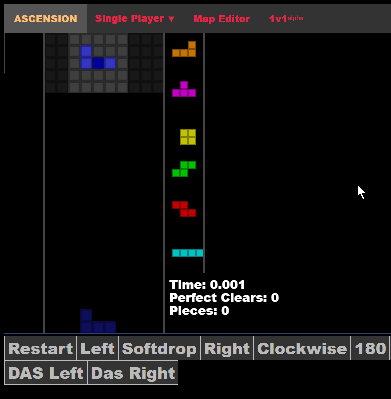 July 2019
Changes
- Several UI changes to game/multiplayer
- Allow configs to be used in multiplayer
- Multiplayer chat window is now a separate popup
- Added practice mode to multiplayer, so you have something to do while you wait
- Added sound effects
- Many Many bug fixes
New Modes
- Sprint Mode: Gotta go fast
- 1v1 Mode: Beat up your friends
New Pages
- Home Page: Now with lots of information!
- Beginner's Guide: Work in progress, go from noob to ascended!
Video
Screenshots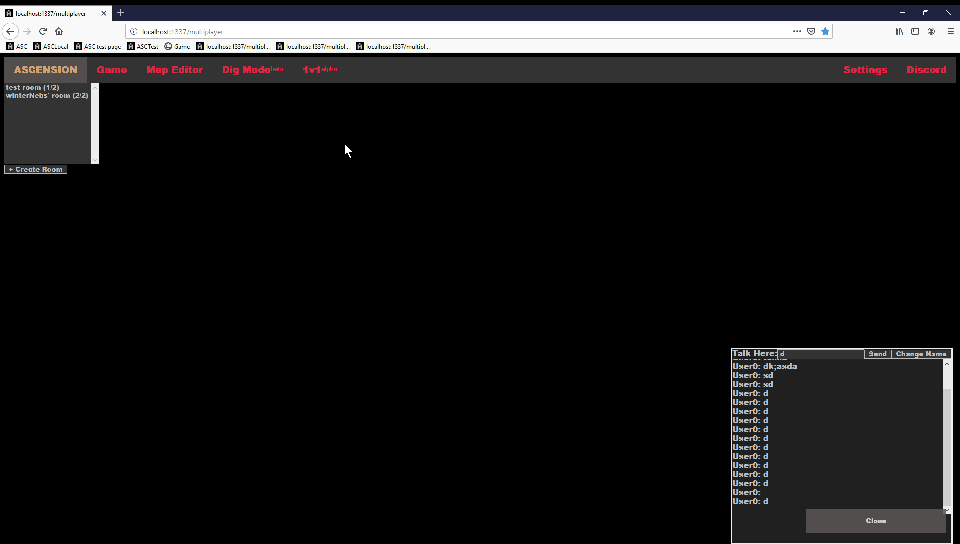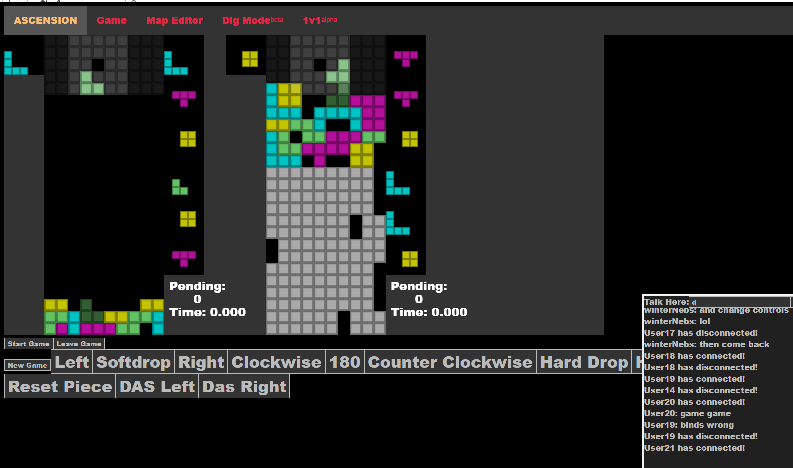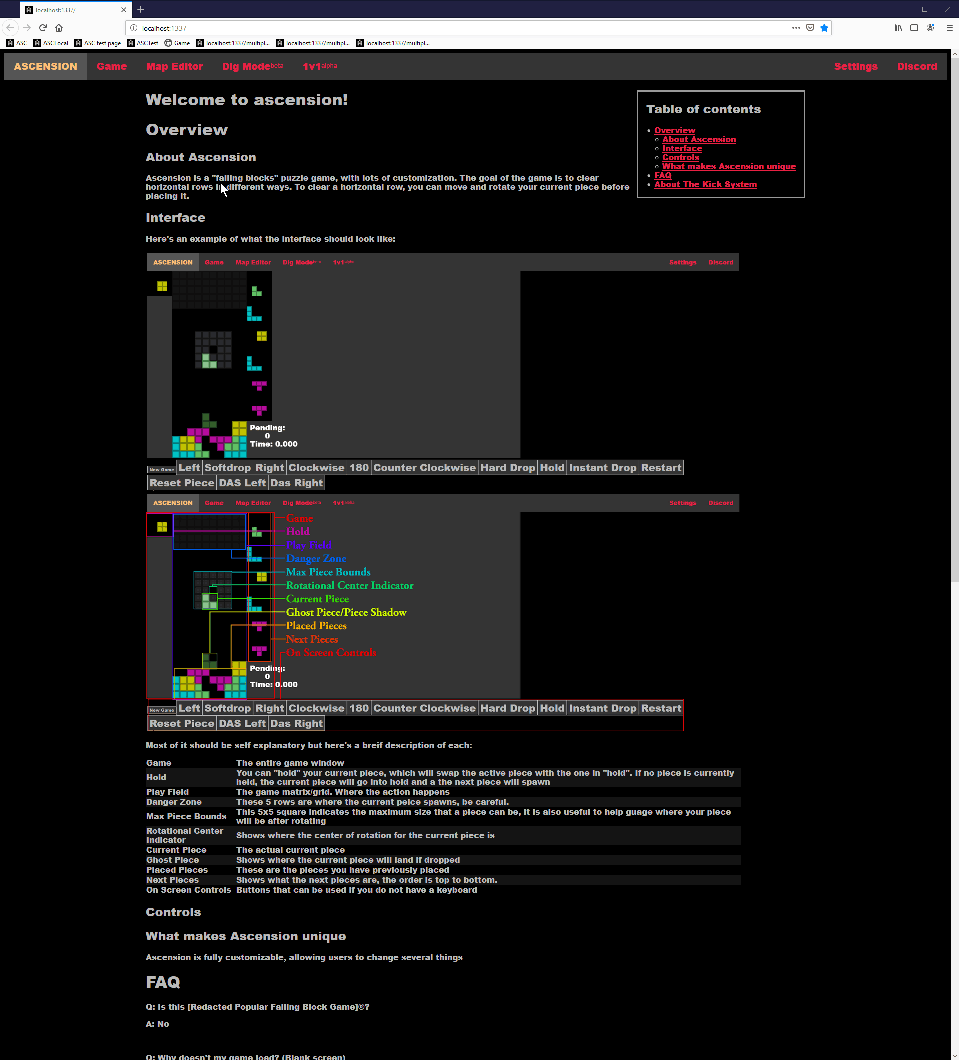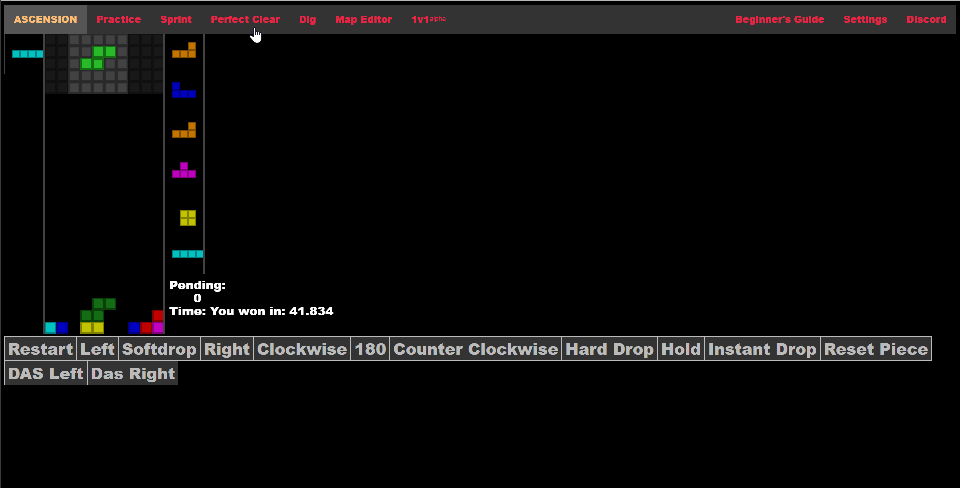 June 2019
Changes
- Separated settings page from the game page
- Created game server for the game
- Multiplayer has chat now
- Added garbage to multiplayer
Screenshots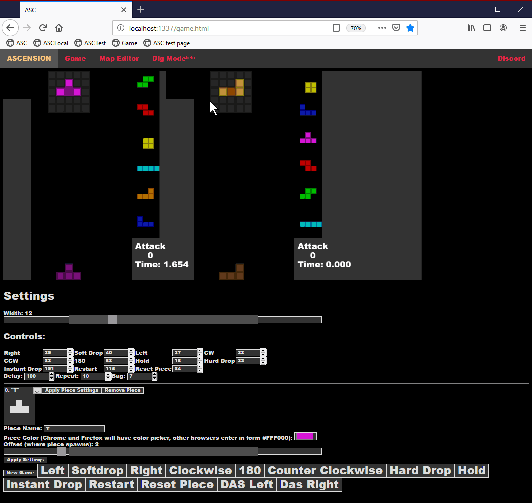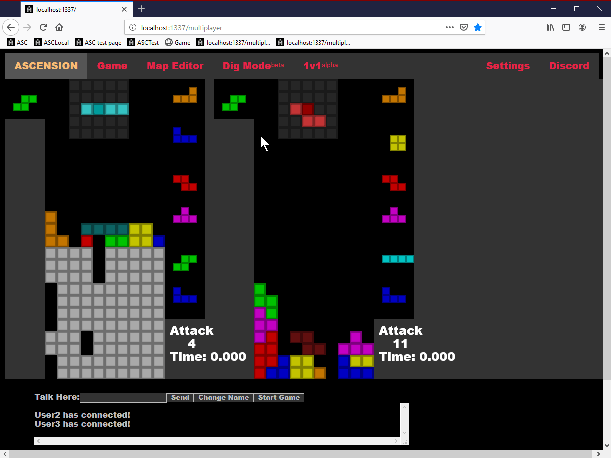 May 2019
Changes
- Added touch screen buttons
- Started work on multiplayer.
The old site does not support websockets, so we moved here.
You can view the old site here, although it might take a long time to load: https://ascension.azurewebsites.net/designer
The old repository ends here. You can view it on github. https://github.com/winterNebs/Blocks
Late April 2019
Changes
- UI is less ugly
- The current kick table was added
New Mode
Dig Mode: Clear the lines before you top out
Screenshots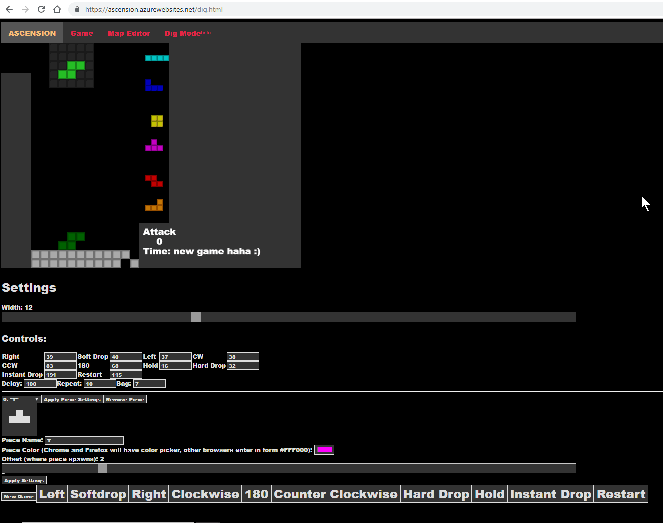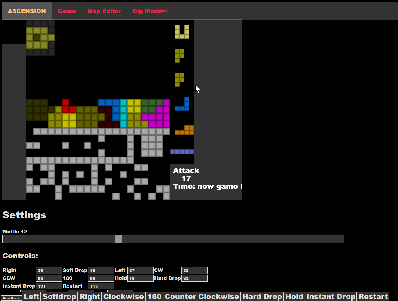 Early April 2019
Changes
- Game is now in color!
- Settings save when you leave the page now
New Mode
Map/Map Editor: Make obnoxiously hard puzzles!
Videos
Screenshots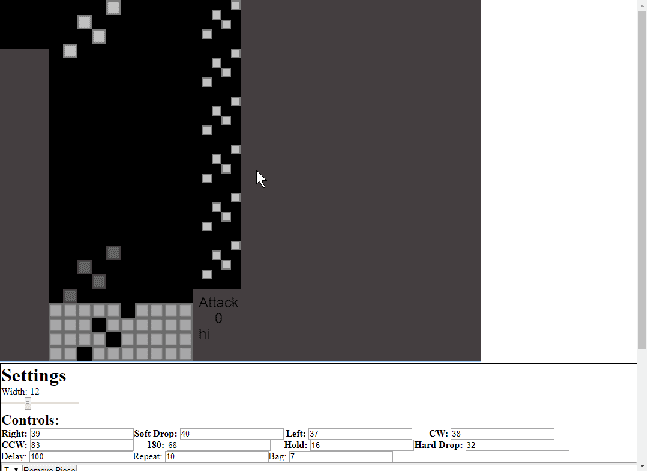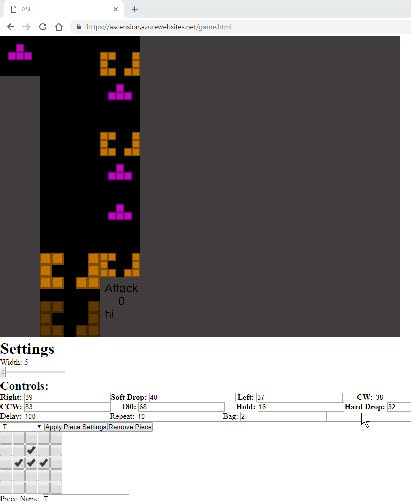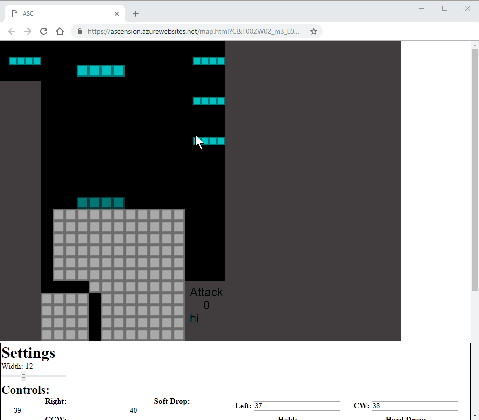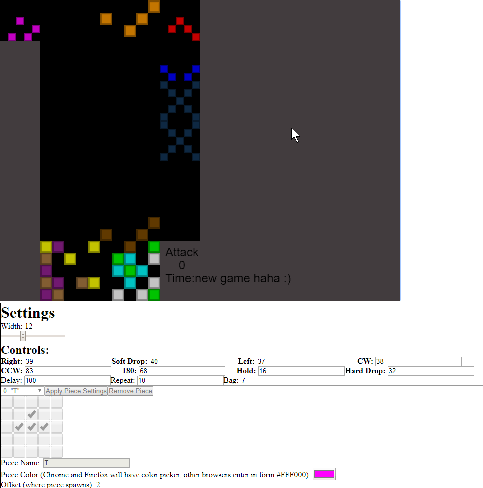 March 2019
Changes
This is where it all started.
I wasn't happy with the direction other games were going, so I decided to take the elements from them that I liked and combined it to make something of my own.
Settings were added, so you could now customize your controls and make new pieces
The original version used an crazy kick table, that would basically let you rotate anything anywhere
Screenshots